Call today! 530.605.4557

Tap to call!
Critical Hormones
Several bioidentical hormones are singled out as the most critical for our clients' anti aging therapy.
The following diagram shows the pituitary as the master gland. Through the hormones it produces, the thyroid gland, liver, adrenal, ovaries and testicles are stimulated to produce our critical hormones.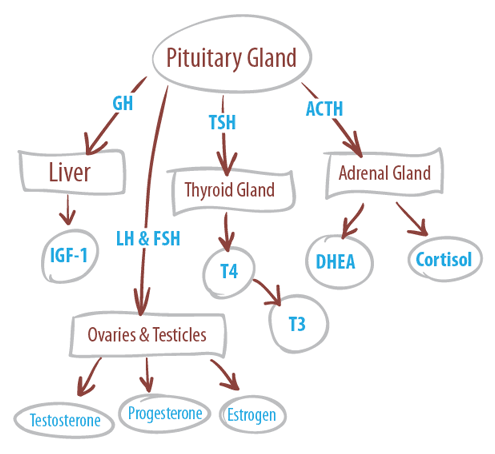 Contact the office today and schedule an appointment!
Call 530-605-4557 or Contact Us Here.
Now Offering!
IV NAD & Ketamine infusions to fight the effects of aging and depression Learn More »
Stem Cells/Platelet Injection Procedures
For many orthopedic injuries and disabling conditions, Dr. Daniel Goodman utilizes an alternative in-office treatment known as Regenerative Injection Therapy. This cutting edge therapy Learn More »
Therapy for Women
Stop symptoms of menopause such as hot flashes, insomnia, mood swings & inability to lose weight. Increase your vitality for life, your ability to deal with everyday stresses and your reduced Learn More »
Therapy for Men
Learn how optimizing your declining testosterone levels, the single biggest factor in male aging, can make you thinner, stronger, smarter and less susceptible to heart disease, stroke & Learn More »
IV Treatments & Adjunctive Cancer Therapy
As a board certified anesthesiologist for over 20 years, Dr. Goodman is vastly experienced in intravenous fluids and nutrition. He has incorporated Learn More »
DNA Repair TA-65
In 2009 three renowned scientists were awarded the Nobel Prize in medicine for their revolutionary work in discovering the genetic mechanism of aging. Their work has led to the Learn More »
Get in touch!

530-605-4557
530-605-4531 Contact us here 1832 Buenaventura Blvd. Suite B
Redding CA. 96001